Honda Motor Co. is coming out with hybrid cars starting early next year that will cost about $1,900 more than comparable gas-only models. Honda has confirmed that it regards hybrid cars as the best interim environmental technology between now and when fuel-cell cars become fully viable.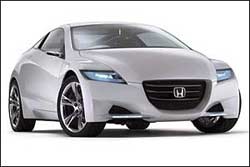 It is planning to launch four new gas/electric hybrid cars in the next few years. These include a family five-seat hatchback that will go on sale next year, a hybrid version of its popular Chinese-made Jazz supermini and, despite the company's earnest denials of this project, Honda will be producing the world's first sporty hybrid based on the attractive CR-Z concept (pictured) shown last year.
Honda, which already has the most fuel-efficient lineup in the U.S., announced Wednesday that it will sell the new hybrid-only car in the U.S., Japan and Europe starting in early 2009. It has not determined yet where the Fit will be sold.
The new models are a key part of Honda's strategy for the next three years that President Takeo Fukui outlined at Honda's Tokyo headquarters.
The plan also included production innovations and expansion in Japan to cut costs so Honda can stay competitive amid soaring material and energy costs, he said.
In addition to the new model and the Fit, Honda will introduce several other hybrids: a Civic and a new sporty model based on the CR-Z, Fukui said.
Fukui refused to give the price for the new hybrid-only vehicle.
But he said the difference between hybrids and their comparable standard models should be kept within 200,000 yen ($1,900), although such price gaps can now reach as much as 500,000 yen ($4,800).
"The 200,000 yen difference is a must," Fukui said.
Hybrids deliver a cleaner, more efficient ride by switching between a gas engine and an electric motor at different speeds, and by recycling the energy the car produces as it moves.