magine the conveyance of a vehicle that could combine the best of two modes of transportation, the versatility of a bus, speed of light rail and fuel economy greatly better than either of them.
The dual-mode vehicles have been developed by Toyota and its truck-making subsidiary Hino Motors after they signed on with Japan Rail Hokkaido . The vehicle can carry 25 people and apparently consume one-fourth the amount of diesel fuel required by conventional buses.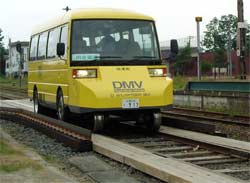 Its been 18 months since Japan Rail started testing these vehicles, and with Toyota s entry into the project, one could see a faster development and commercialization of what may be the mass transit vehicle of the future.
The dual-mode vehicles have four rubber tires for road use and four steel wheels for the rails, and they just take less than 15 seconds to go from road to rail and back again. It drives just like a bus on the road, and a hydraulic system raises the tires and lowers the steel wheels as the driver guides the vehicle onto the tracks.
Japan Rail provides rail service for the island of Hokkaido , and about one-third of its lines carry less than 500 people. It developed the dual-mode vehicles as a means of cutting costs on those lines without reducing service.
The vehicles use a Toyota microbus body and axles built by Hino. The two companies will help Japan Rail refine the technology and increase passenger capacity with an eye toward commercial production.
"Our contribution is expected to be another step toward more practical use of the dual mode vehicle," Wired News quoted company spokesman Kenichiro Baba, as saying.
With the advent of these dual-mode vehicles, Japan Rail has disentangled the versatility of a bus with the speed of a train; enabling them to tailor routes and services to the communities it serves. Rather than scuttling service on under-utilized lines, Japan Rail has simply switched to smaller vehicles.
The vehicles would make rail transit feasible in those areas that don't have the population density to support a lot of stations, and make mass transit a more viable option for exurbs.