China is aiming to make a high-speed rail line linking Beijing and Shanghai the world's fastest when it opens in 2012, state media reported Monday.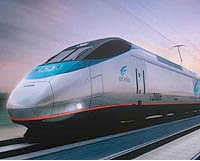 Chinese-designed trains capable of speeds up to 380 kilometres (236 miles) an hour will make the 1,300-kilometre journey in about four hours, the China Daily quoted Zhang Shuguang, the Ministry of Railways' deputy chief engineer, as saying.
Previously the trains had been planned to run at up 350 kilometres an hour, the same speed as the current generation of Chinese "bullet" rail services, and take about five hours.
The quickest trains can currently travel between Beijing and Shanghai is 10 hours.
Construction has begun on the new rail line and is expected to be completed within four years, the report said, citing the ministry.
The line is part of China's ambitious plans to build more than 12,000 kilometers of high speed railway to connect its major urban centers.
The government has committed hundreds of billions of dollars to upgrade its rail system by 2020, with the Beijing-Shanghai line being the first of the major north-south high speed lines.
All the new lines will be double track and by 2020 China should have separate networks for passenger travel and cargo, state media previously reported.
Last month China opened a high speed line linking Beijing and the eastern port city of Tianjin.
The Ministry of Railways said then the 120-kilometre railway was the first in the world in which trains could travel at 350 kilometres an hour.
Japan's Shinkansen "bullet train" and Siemen's ICE train average about 300 kilometres an hour, but a new version of the Japanese train, the Fastech 360Z, is expected to operate at 360 kilometres an hour when it enters service.
China already has a train service capable of reaching speeds of more than 430 kilometres an hour, the MAGLEV line between central Shanghai and its main international airport.
However, China does not count that as the world's fastest regular train, as the futuristic technology sees it float above the rail line using magnetic levitation.